When you are buying ski goggles wholesale, you can get them at a discount, which means you will get more products with your money. Ski goggles are an important piece of equipment that needs to be taken care of, but sometimes it can be difficult to buy them new and not have the right ones.
You can also find cheaper prices if you go with the right product. The best thing about buying ski goggles wholesale is that there are so many different types of products available, which means that there will always be something for everyone's taste. You will not have to worry about whether the product fits your needs or what color it is because there are so many options in XUNQI GLASSES!
Our Ski Goggles Wholesale can save your money
When you're looking to buy ski goggles, you want to make sure that you're getting the best deal possible. If your goggles are from another company and are cheap, it might be because they were made with low-quality materials or even poor workmanship. But if you buy them from our Ski Goggles Wholesale, you'll get what you paid for top-quality ski goggles at an affordable price.
We are a team of experts who have been working in this industry for many years. We have come up with a solution to all your problems. Our company has been providing the best services to our customers as per their demands. We are offering you quality products at competitive prices with high-quality materials, which is why we are loved by everyone.
There are several types of goggles in our ski goggle wholesale
There are several types of goggles in our ski goggle wholesale. They can be used for different purposes and play a role in your safety and comfort. Some of our ski goggle wholesale products  are listed below:
Interchangeable magnetic red lens ski goggles:
Ever wanted to ski with goggles that are as comfortable as they are stylish? We've got your back. Our newest goggles are just the thing for you. With a flexible TPU frame, our interchangeable magnetic red lens ski goggles have a double anti-fog magnetic PC lens that keeps your eyes nice and clear no matter how much time you spend in the mountains. The lenses also have a triple layer of high-density foam, so they're extra comfortable, too—and they have non-slip silicone straps, so they'll stay in place while you're flying down the slopes.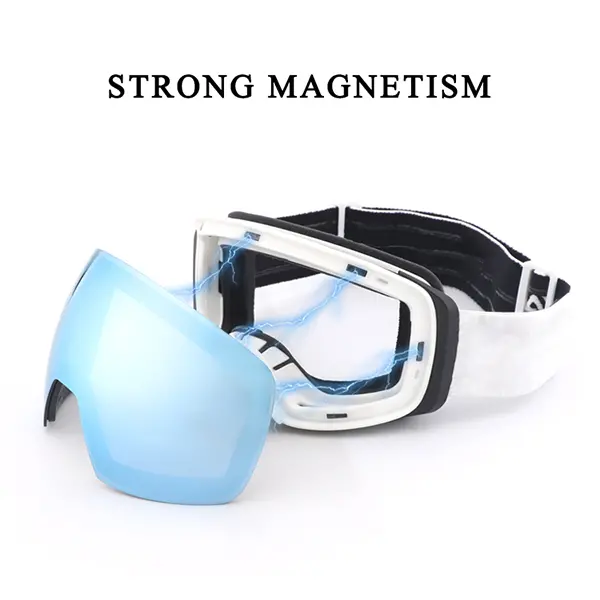 Customize blue lens snowboard goggles:
Want to try something new? Try out our custom blue-lens snowboard goggles. We have a wide variety of colors, so you can find the perfect pair for your style and taste! Our lenses are anti-fog, anti-stain, and anti-scratch resistant. They also have triple layers of high-density foam to keep you comfortable while wearing them. The adjustable strap makes it easy to get a custom fit and make sure that they stay in place when you're on the slopes or in the water.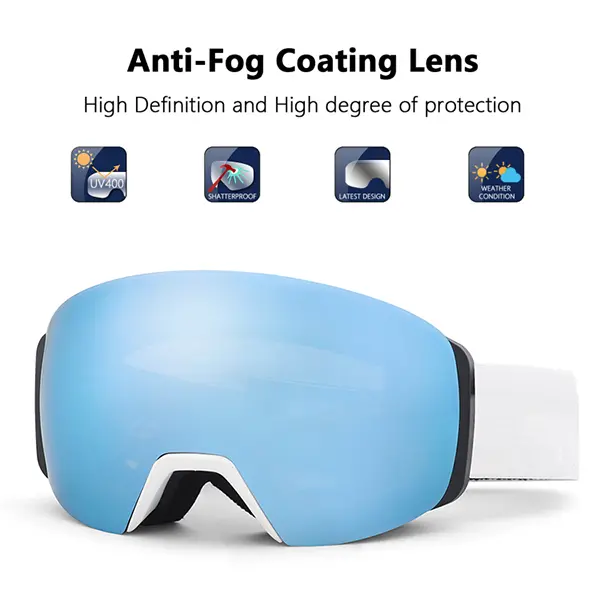 At ski goggle wholesale, we're here to help you find the perfect pair of goggles for your child. Whether they're getting ready to go sledding or snowboarding, or just want to wear them around the house with their friends and family, you want them to be safe and comfortable. That's where our anti-fog kid's snow goggles come in—they feature UV400 protect double anti-fog PC lens for clear vision even in blinding weather conditions, comfortable triple layers sponge for all-day comfort, non-slip adjustable strap for a perfect fit no matter what size head you have!
UV protection polarized snow goggles:
If you're looking for a pair of goggles that will protect your eyes from the sun's rays, then you've come to the right place. These goggles are made with an extremely flexible TPU frame and triple layers of high-density foam, which provide UV400 protection. The non-slip silicone adjustable strap keeps them securely in place, while vent holes in the lenses let airflow flow through them to keep your eyes comfortable.
Oversized silver mirror snow goggles
The Oversized Silver Mirror Snow Goggles are an incredible pair of goggles that will keep you safe and comfortable in any weather. This lens is specifically designed to allow for a sharper image while maintaining a comfortable fit. The high-density foam creates a fit that won't pinch your face, and our custom logo sport strap ensures that you'll stay comfortable all day long. And as a bonus, these goggles come with UV400 protection so you can enjoy the sun safely without risking blindness!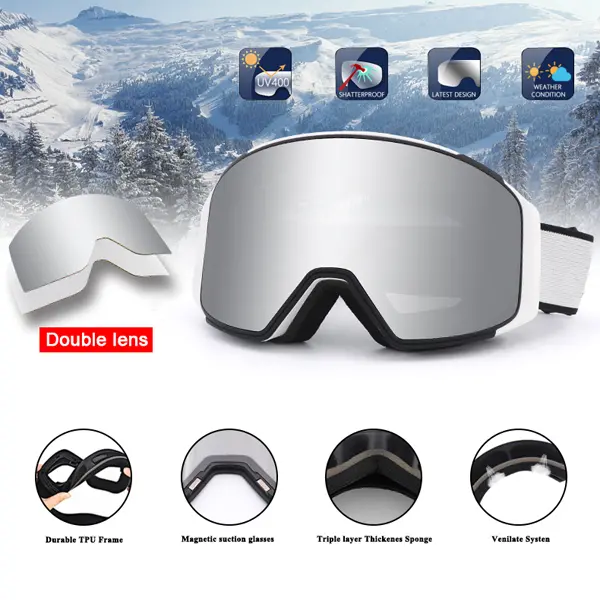 Anti-fog polarized otg snowmobile goggles
The anti-fog polarized otg snowmobile goggles are the perfect choice for any outdoor enthusiast. The double anti-fog PC lenses are made of high-quality and sturdy materials, while the triple layers foam provides maximum comfort. The anti-slip strap with a customized logo is designed to fit the contours of your face and keep it in place during long rides.
Conclusion:
As a ski goggles wholesale company, we are devoted to building long-term business relationships with customers all over the world. XUNQI GLASSES provide you with top-notch service. You will find XUNQI GLASSES most reliable and honest suppliers on the market, such as Motocross Goggles, Military Goggles, Fashion Sunglasses, Sport Sunglasses, etc.