Are you sportsmen or sportswomen worried about dust or motocross during cycling or other sports? Worry no more, for Guangzhou Xunqi Co. Ltd has a solution for you. Activities of cycling motocross are enjoyable, but problems of dust and direct sunlight can be disturbing problems. Thus, specialists recommend to passionate athletes of this kind of game use outdoor sports sunglasses for their safety. Towards this recommendation, at Guangzhou Xunqi Co. Ltd, we are dedicated to producing the best quality different outdoor sports sunglasses. Interestingly, the article elaborates on the importance of outdoor sports glasses for sportsmen and sportswomen. Also, the article presents a review of the various best outdoor sports sunglasses available in Guangzhou Xunqi Co. Ltd.
When it comes to safety when engaging in any sports activity, one cannot afford any compromise. The outdoor sports sunglasses provide safety measures fixed with the PC lens and a protection frame. Further, the different outdoor sports sunglasses offer comfort when wearing as they are designed with an anti-skid pad and a foot cover. Additionally, different sunglasses have different colors that match with sports outwear; thus, one consistently portrays a picture of beauty when wearing them. Healthwise, outdoor sports sunglasses protect athletes from direct sunlight that can damage the eyes. Why then take a chance of risking your health while Guangzhou Xunqi Co. Ltd offers a variety of outdoor sports sunglasses?
Review of the Best Outdoor Sports Sunglasses
Outdoor sports sunglasses are categorized differently depending on the faces' different shapes since different faces need different shapes and frames.
Brown polarized women's  sunglasses
A unique outdoor sports sunglass is a PC frame with its lens TAC polarized. The sunglasses are fixed with a polarized lens that protects a sporting activity. Amazing, sunglass is used as a cover for glasses. Advantageously, sunglass is one of the best outdoor sports sunglasses that guarantee 100% UVA and UVB protection for sportsmen and sportswomen. The sunglass is readily in Guangzhou Xunqi Co. Ltd with plenty of time and space, according to the client, to ensure they are convinced of the quality of the product.

Best photochromic road bike sunglasses
One of the special sunglasses with frames is polycarbonate, a feature that guarantees a long-life use of the sunglass. Amazingly, sunglass is commonly used in outdoor sports. Further, the sunglass has customer-enticing features, including a detachable complete frame design, cylindrical photochromic lens, and anti-slip injection rubber on the arm. Advantageously, the sunglass protects UV lights and thus guarantee the eyes' safety during sports. The sunglass is commonly used in bike-related games.
Blue-tinted lens golf sunglasses
One of the unique sunglass with a tinted lens gives the various sportsmen and sportswomen. Interestingly, sunglass is the answer to the various sportsmen who engage in golf games. Amazing the sunglass is designed with unique features such polarized grey lens and an adjustable nose pad, which make the sunglass the best among the different outdoor sports sunglasses offered in Guangzhou Xunqi Co. Ltd. Advantageously, the sunglass is unisex, meaning that any gender can wear it. Further,  the sunglass comes in different colors, and thus one can choose the preferred and attractive colors.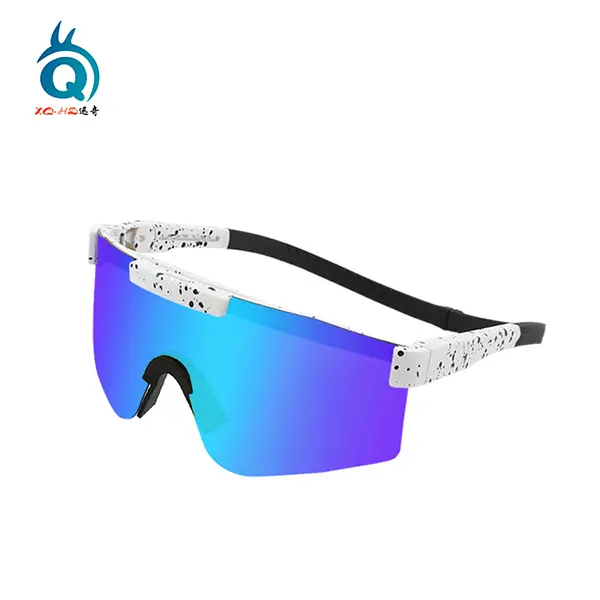 Conclusion
As passionate sportsmen, visit Guangzhou Xunqi Co. Ltd . for quality outdoor sports sunglasses. At Guangzhou Xunqi Co. Ltd .  we seek to create a reputation by providing quality outdoor sports sunglasses. We achieve this through the critical process of the vital production line and testing measures. Wearing sports sunglasses is not only a step toward being fully geared for the task but also ensures you engage most safely and confidently.