Xunqi Glasses is a well-known manufacturer of outdoor sports glasses in China. We design and customize a variety of sunglasses and goggles, including mirrored ski goggles for women, motocross sunglasses for men, anti-fog kids' ski goggles, and many others. Whether you're an expert or a newbie, cladding the right ski goggles is not only fun but a necessity.
Eye Protection: Skiing comes with a good share of risks. From strong winds to ice particles as well as tree twigs, you may find yourself exposed, and that is why you need eye protection. Our mirrored ski goggles women offer you the much-needed protection to ensure you enjoy your game. The lenses are strong and well-fitting on your eyes as well as on the helmet.
Anti-glare: This is an important feature of our mirrored ski goggles for women. To ensure that the strong sun rays don't burn your eyes and cause you to skid or fall, we have fitted our ski goggles with mirrored glass to add to the quality of the anti-glare function.
Improved view: With these mirrored ski goggles women, you experience an improved and clearer vision while skiing because the added mirror layer reflects sunlight away so it doesn't enter your eyes.
The characteristics of mirrored ski goggles women
Mirrored additional layer: The mirrored ski goggles women are made with a mirrored layer in addition to the lenses to offer additional quality and anti-glare protection.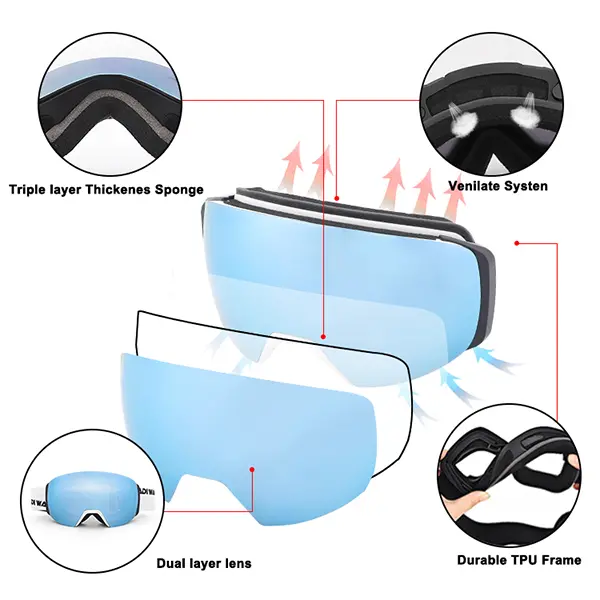 Strong and durable lenses: our lenses are strong to give standard safety against ice particles and wind.
Multi-colored ski goggles; our team of experts has designed mirrored ski goggles for women in different colors to fit any occasion and best meet women's needs.
Ventilation holes on the lens and frame: With added ventilation holes on the lens, you will have an easy time skiing as they offer reduced wind resistance.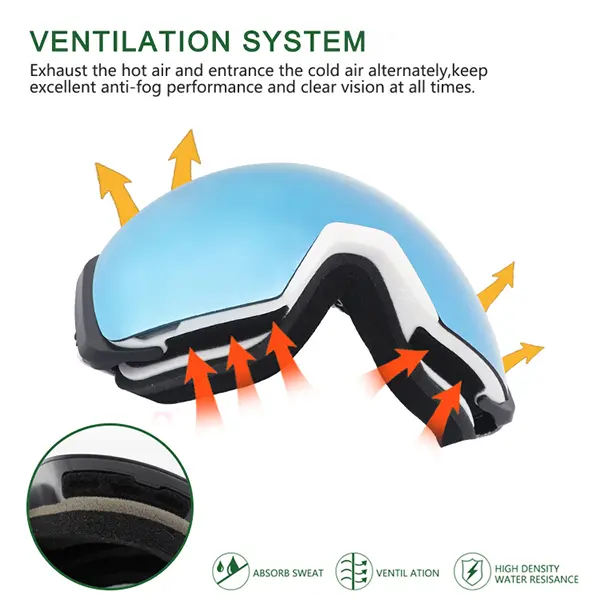 Soft rubber adjustable nose pad-We have designed the goggles with all ages in mind, and the adjustable nose pad makes fitting easy for anyone wearing the goggles.
Anti-slip rubber-The goggles are designed with anti-slip rubber so that they don't slip off your skin when skiing. You can concentrate on your next move with peace of mind.
Adjustable strap: they come with a strong yet adjustable strap to tightly fasten your goggles at the back of your head. The strap is also easily customizable with your logo or name.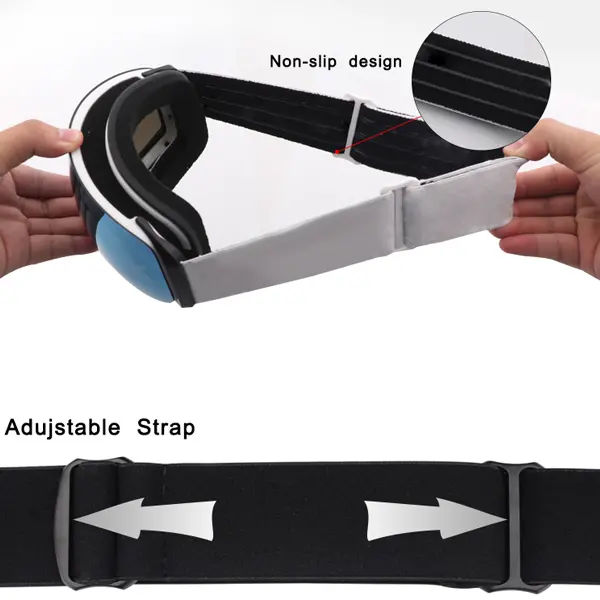 How to choose mirrored ski goggles for women?
Choosing your mirrored ski goggles for women might not be easy, especially with many brands available. However, some features can easily help identify the best ski goggles. These are:
Size: There are many sizes of skiing goggles that you can choose from. Knowing the best size will make it easy to get the best skiing goggles.
Color: Knowing the color which best describes you is another great step. For instance, you can choose pink, sky blue, black, etc.
Type of lenses: for our mirrored ski goggles women, you can choose from many designs of lenses, such as cylindrical or spherical, depending on your preference.
The bottom line:
Xunqi Glasses has mastered the art of designing and manufacturing outdoor sunglasses and customized goggles for all occasions. Over the years, we have designed and continue to offer quality and fashionable mirrored ski goggles for women that meet and exceed customers' requirements. For inquiries and more information about any of our products, contact us.