When looking for custom sunglasses with logo, you want the best. You want the best quality, the best prices, and the best customer service. And you can find all that and more when you shop at Xunqi Glasses Factory! Xunqi Glasses Factory is a leading manufacturer of custom sunglasses with logo in China. We know that you choose wholesalers when it comes to ordering promotional items and corporate gifts. So we work hard to provide you with the best experience possible!
Here are eight reasons why Xunqi Glasses Factory is one of the most respected custom sunglasses vendors.
High-Quality Sunglasses
Xunqi's glasses are made with top-notch materials and undergo rigorous quality control checks before they leave the factory. They are durable, comfortable, and stylish, so you can be sure your customers will be satisfied with the product they receive. Xunqi offers many different styles of glasses at different price points to meet any budget. The company also offers OEM services (customized logo printing on frames or lenses), which means you can have your logo printed on the sunglasses and customized according to your needs without worrying about quality issues!
Variety of Styles
We offer various styles, from aviators to wayfarers, cat eyes, and everything in between. You can choose from our existing styles or customize your own with custom logos printed on lenses (like those seen above). Whether you want something simple like polarized lenses or something more complex like photochromic glasses – we can help!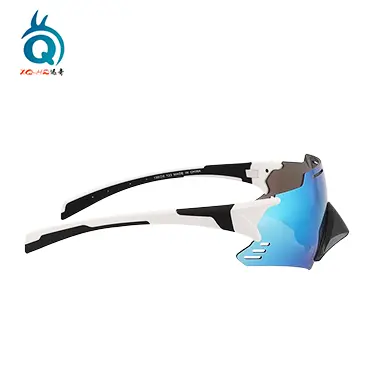 Sunglasses Customization
It is not easy to find a sunglasses manufacturer that can truly support your unique customization requirements. However, Xunqi Glasses Factory offers a wide range of services to meet your needs.
First, you can choose from our existing sunglasses models, such as custom polarized aviator sunglasses, mirror sunglasses, anti-blue light glasses, etc. Then you can make changes to the details of the model based on your preferences. If you don't like our style, we can also make a completely new one for you. In addition, we offer OEM and ODM services to meet your requirements.
Second, you can customize the logo on our glasses. We have many label printing methods for you to choose from, such as screen printing labels, laser labels, etc.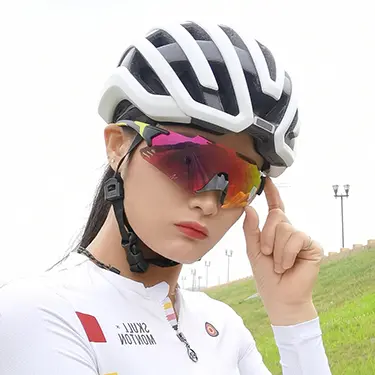 Low MOQ
Xunqi Glasses Factory has many years of experience exporting sunglasses; that's why we understand the importance of low MOQ for small business owners and new startups. Because of this, we offer low MOQ from 100 pieces per model. Even with this low MOQ requirement, we can still guarantee high-quality products, as we have 3 QC teams before delivery to ensure all products are in good condition for you to sell to your customers.
We Have Products for Every Need
Xunqi Glasses Factory specializes in producing and selling various glasses, including custom sunglasses with logos, polarized sunglasses, custom sunglasses, bulk custom sunglasses, designer sunglasses, etc. We have our factory and design team committed to developing new products every year. Our products are mainly exported to Europe and the United States.
Competitive Wholesale Prices
Sunglasses wholesale price is one of the conditions to judge whether a sunglasses vendor is a good choice for your business. Usually, sunglasses wholesale are much cheaper than retail (the price you sell to customers). If the wholesale price is too high, it will be hard for you to make a profit from your business. When you import sunglasses from China, Xunqi Glasses Factory will provide you with the best wholesale prices.
Customizable Color Schemes for Custom Sunglasses With Logo
As a professional custom sunglasses with logo manufacturer, we can customize any color combination you want for your custom sunglasses with logo. We can customize the frame color, lens color, or temple color combination you want for your private label sunglasses products. No matter what color you want to make as your brand sunglasses, we can customize them for you. Just tell us your requirements, and we will make it according to your requirements.
Our Staff Is Trained To Help You Find Exactly What You Want
We know that no two people are alike, so we take pride in offering a wide variety of options for every customer. Whether you're looking for something classic or trendy, we've got a pair of frames to fit you perfectly. Our staff members are trained to help you find what you want quickly to spend less time shopping and more time enjoying your new glasses!
Final Words
Xunqi Glasses Factory has built its global reputation from our superior products and services. We have years of experience manufacturing fashion sunglass products, customized clothes, and directly sourcing for overseas customers. If you are interested in our custom sunglasses with logo wholesale or clothes wholesale business, welcome to contact us for details yours needs.